Linen Chute
We Ecotech Chutes Pvt. Ltd. are manufacturer and supplier of Linen chute in Nigeria.
Linen chute is the most efficient method of quick and economically disposing of soiled linen in multi storied HOTEL and HOSPITALS. Linen chute allows fast and easy collection of soiled linen from all floors into laundry room. Its saves cost of using lifts and also saves time of housekeeping staff.
Linen chutes can be installed in any duct accessible from all floors in any commercial or residential building.
Garbage chute also know as "Centralized Garbage Collection System" provides way of efficient and hygienic method of garbage disposal in all types of residential/commercial buildings.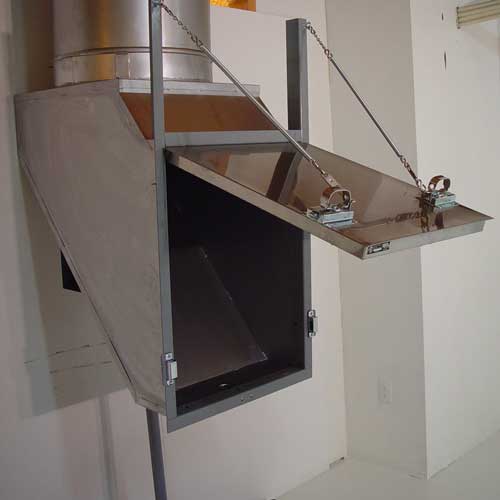 Features of Ecotech Linen Chutes:
Manufactured & Installed as per BS 1703:2005, NFPA 82
Manufactured in Austenitic Stainless Steel, Grade SS 304. Stainless steel 304 has the advantage of being resistant to the humidity, acid and alkalis contained within dirty linen
Intake Doors are 90 minute fire rated.
Interlocking of intake door allows only one door to open at any given time and other door remains locked with busy indicated. This feature enhances the safety of the system.
Standalone access control system can be provided
Fire Cut off door is provided at discharge end. Discharge end is D type
Full diameter air vent system allows air movement necessary for vacuum breaking.
Sanitation system is provided for internal cleaning of chutes.
Fire Sprinklers are provided for fire safety.
TECHNICAL SPECIFICATIONS

Selection of chute diameter
| | |
| --- | --- |
| Type of Building | Linen Chute Dia. |
| Residential | 600 mm |
| Hotel/Hospitals | 750 mm |
Hopper Size of standard chute
Chute Diameter

Hopper Size (Side Hung)

600mm i.e. 24"

Typical Size

18" X 18"

Maximum Size

18" X 21"

750mm i.e. 30"

Typical Size

21" X 21"

Maximum Size

24" X 24"
Material of Construction:
1. Manufacture with Stainless Steel as base material (Grade SS 304, Thickness 1.5 to 2 mm)
2. Fibre, Plastic chutes are not allowed considering fire hazard, as per BS/NFPA Codes.
Intake Door
Intake door are side hinged, Manual-closing hopper type door.
Intake door are fixed with chute in face of front wall
All Intake doors are equipped with electric interlock along with stainless steel Tee handle with self latching mechanism and key to prevent unauthorized use of chute and locking of chute during maintenance.
Intake Door are 90 min fire rated.
Intake door have Door controller with "Open" Button and "Ready", "Busy" and "Fault" indicators
Door interlocking allows only one user to use the chute at any given time.
Stand Alone Access Control (Optional)
Stand alone access control system with 12 digit keypad is provided near the intake hopper.
A four digit resettable changeable password for each intake door will allow usage by authorized persons only.
A master password is provided for overriding any password.
Discharge
Linen Chute is provided with "D Type" discharge door.
It is designed to divert the linen from chute duct into linen room at desired height.
It consists of fire cut off door with latch to close the chute in case of eventuality.
This door will be attached with 174 deg F fusible links. This melts in case of fire and door will get closed automatically. This will close the chute
Air Vent:
A full diameter air vent is installed at roof level or just above last intake hopper.
It enables to break vacuum created by falling Linen.
It is provided with weather cowl & bird screen
Fire Sprinklers
Auto Fire Sprinkler are installed at topmost and bottommost floor and every alternate floor.
Starts automatically at 68 deg C. to extinguish fire
½" IPS (BSP) female threading ready to be connected to 1" wet riser of fire protection system is provided.
Provisions required for installation of Linen Chute
Duct Size
| | |
| --- | --- |
| Chute Diameter | Duct / Slab Opening |
| 600mm i.e. 24" | 32" X 32" |
| 750mm i.e. 30" | 36" X 36" |
| For other sizes | Dia of Chute + 8" |