ECO COMPOSTER- ORGANIC WASTE COMPOSTER
We Ecotech Chutes Pvt. Ltd. are manufacturer and supplier of Organic Eco Waste Composter in Nigeria.
Ecotech's Organic Waste Composter

Ecotech's Organic Waste Composter are designed to make composting easy and convenient. Its fully automatic and has very compact and aesthetic desing.

Ecotech's OWC are equipped with intuitive technology which maintains the right temperature, air flow and moisture. A special bacteria which is heat, salt and acid resistant is used. Once the bacteria are introduce in machine they reproduce at a rapid pace under ideal internal condition.

When organic waste is filled in converter, increase in moisture level is detected by sensor which subsquently starts the heating system. As the temperature increases it activates the bacteria which breaks down organic waste into fertile compost. At the same time moisture in waste is converter into water vapor which is vented through blower into drain. This not just results into nearly 85% volume reduction in compost formed but also converts organic (food) waste into 70-80% mature compost within 24 hour. The temperature in our owc machine is high enough that even daity, fish and meat are easily composted. The constant temperature and air flow prevents odor and pest problem.

The owc machine needs to be empited only once a week and the compost can be used in garden or can be sold.

Features & Specifications

Fully automatic.
Power saving.
Heavy duty satinless steel composting chamber and agitator shaft.
Processes almost of all type of organic waste.
Up to 80 - 90% volume reduction of organic waste intocompost
Removal of compost only once in 8 - 10 days
Compact, fully covered and attractive outer body
Noiseless and odorless
Overload function
Auto stop function when door in open
Emergency stop button
Digital temperature display.

Salient Features

OWC Quality

• Smart & Fully Automatic :

Provided with inbuilt heating system, multiple sensors and logic control board thus eliminating need of skilled manpower.

---

• Power Saving Function :

Heating system is On only when moisture level is high or else it remains off thus saving electricity.

---

• Odourless :

No foul odour is created during operating. Also no pathogens or harmful gases are generated.

---

• High Durability :

Robust construction with high quality stainless steel Grade 304 contact part and high quality exterior canopy.

---

• User Safety :

Auto stop function when any door is opened. Emergency stop button also provided.

Organic Waste Composter Range
What Should You Compost?
Shredder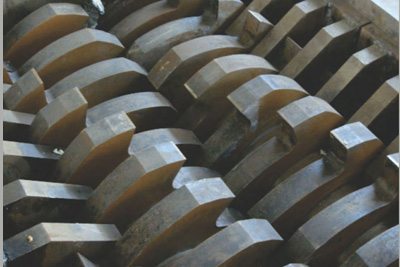 "Ecotech Shredder" are designed to operate at slower speeds, utilizing high torque & the tearing, crushing & shearing action between counter rotating, opposing blades. This results in minimal power consumption & reduced noised as compared to other types of shredders, while still achieving high throughput rates & low maintenance costs.
Suited to the size reduction of bulky materials, these machines are supplied Complete with electrical control panel and are guarded to prevent access to moving parts, ensuring safety.
Highlight Features
Double shaft shredder are robust & rugged machines.
Throughput upto 1000 kg/hr.
Less material preparation
Very low vibration
Lower dust & noise means a safer work environment
Lower risk of projectilies ejected from the.
Longer life to the cutters and entire equipment
Higher online reliability and lower power requirments